Mambo Groovin'
specializes in producing custom full length entertainment programs for events of any type and size. This includes a variety of dance performances, and/or group lessons for your guests, and/or involving You as part of the show! Our clients and their guests rave about our performances as highlight of their events.
Email
sandy@mambogroovin.com
or call us at 650-489-6588 for booking information.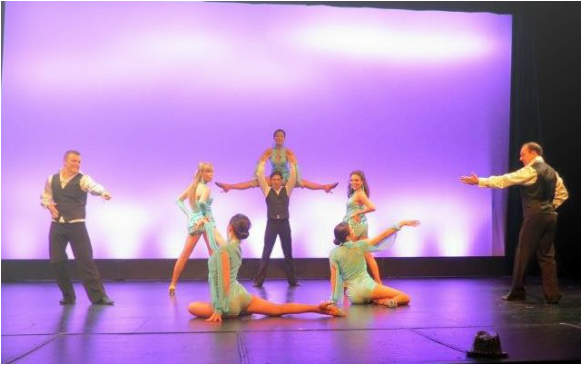 Past Performances:
Jan 7, 2017 Bravo Dance Studio Sunnyvale Grand Opening.
Lo Que Más.
Dec 9, 2016 Silver Creek Valley Country Club. NHORA Fundraiser. Lo Que Más. The Last Bullfighter
Sep 17, 2016 Red Hot Roundup.
Last Bullfighter. Lo Que Más.
Babarabatiri.
Bollywood. Rumba
Sep 3, 2016
Blackhawk Automotive Museum. The Last Bullfighter. Babarabatiri. Bollywood
Feb 27, 2016
Hawaii Salsa Festival, Waikiki Prince Hotel. Hunca Munca
Jun 27, 2015 San Francisco Fairmont Hotel, Wedding. Candy Crush Mambo. Senorita
Apr 18, 2015 San Jose Fairmont Hotel, Wedding. The Last Bullfighter. Senorita
Apr 2, 2015 San Francisco Int'l Salsa Festival, Westin Hotel, San Francisco. The Last Bullfighter
Mar 21, 2015 14th Annual IACF Unity Dinner. The Last Bullfighter, Senorita. Babarabatiri
Feb 28, 2015 Hawaii Salsa Festival, Waikiki Prince Hotel. The Last Bullfighter. Vale Todo
Jan 2, 2015 Park Ballroom, Paso Robles, CA. The last Bullfighter. Babarabatiri
Nov 21, 2014 San Francisco Int'l Salsa Congress. Marriott City Center. The Last Bullfighter
Oct 18, 2014 Mother Against Poverty Fundraiser. SF Metreon. 30 minute show program
Sep 6, 2014 Perform at Bay Point Ballet Gala Fundraiser with Miko Fogarty. B-Side Mambo
Aug 10, 2014 Outside Lands Music Festival - Mezcal Mambo Limbo Program 30 minute length
Jul 26, 2014 Sofitel San Francisco Bay. Wedding. Candy Crush Mambo
Jul 12, 2014 Fillmore Salsa Festival, Fillmore Plaza, SF. Yambu
Jun 29, 2014 Mission in the Mix, Dance Mission, SF: Yambu w. Yenne Guibert & Candy Crush Mambo
Jun 28, 2014 Casa De Macau Cultural Center, Fremont. Candy Crush Mambo, Bachata Rosa, Yambu
Jun 27, 2014 Club Fox, Redwood City, Candy Crush Mambo
Jun 14, 2014 San Jose Historical Montgomery Theater with Harmony Dance Center
May 24, 2014 Blackhawk Automotive Museum. Wedding
May 4, 2014 Wicked Side Story in Sunnyvale Theater. Candy Crush Mambo
Apr 17, 2014 The 6th Annual SF Salsa Festival: Candy Crush Mambo
Apr 13, 2014 Grand Opening of SF Mambo Collaborative Social: Rumba Cubana Vale Todo
Apr 12, 2014 Yerba Buena Social Club One Year Anniversary: Candy Crush Mambo
Mar 22, 2014 Kinetech 1.0 year anniversary party at Kunst Stoff
Mar 21, 2014 13th Annual IACF Unity Dinner, Milpitas Community Theater
Jan 18, 2014 First Annual Afro Latin Festival Las Vegas
May 19, 2013 World Multi-Cultural Day, Sunnyvale Community Center
Jun 28-29, 2013 Fandango XIII ! Presidio Golden Gate Club
Aug 2013 New York International Salsa Congress
Nov 15-18, 2012 The 11th Annual International San Francisco Salsa Congress
Nov 9-10, 2012 Dance Mission Fall Choreographer's Showcase
July 19-23, 2012 The 4th Annual International Bachata Festival
May 25-26, 2012 The 1st Annual Campbell Salsa Festival
May 19, 2012 Symbolic Dance Studio 2 Year Anniversary Celebration
Apr 22&29, 2012 Bay Area National Dance Week - Kathy Mata Ballet Showcase
Nov 17-20, 2011 The 10th Annual International San Francisco Salsa Congress